The Reading Room of the Athenaeum Club, Pall Mall, London
Galton was elected to the club, which had a literary-scientific reputation, in 1855.
Other members included Dickens and Charles Darwin.

The South Library of the Athenaeum Club, Pall Mall, London.
Galton made extensive use of the library.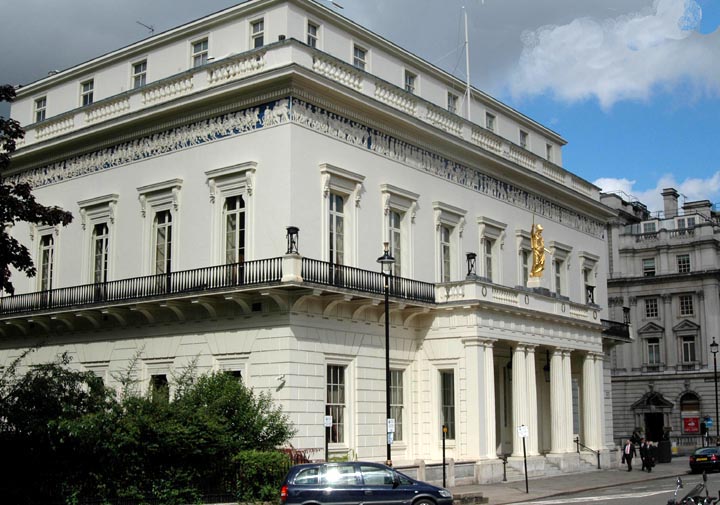 The Athenaeum Club, Pall Mall, London.
The building was designed by Decimus Burton in 1824.

Athena, exterior of the The Athenaeum Club, Pall Mall, London.

Exterior of the Athenaeum Club from the Crimean War Monument.

Entrance Hall, Athenaeum Club.
(Athenaeum Images courtesy of the Victorian Web)

Plaque outside 42 Rutland Gate.

Galton's brother Erasmus (1815-1909, courtesy Loxton website)
December 22, 2022.
November 24, 2021.
September 8, 2021.
March 5, 2019.
March 3, 2019.
December 27, 2018.
November 9, 2018.
Francis Galton on Mars: the Discontinuous Variation Notebook edited by Gavan Tredoux (galton.org, 2018).

Among the Galton papers, housed in the Special Collections Department of University College London, many notebooks survive, recording his explorations of things that amused him or took his fancy. Much of this material never saw print. The pages teem with ideas, often skipping around without warning. One of these notebooks is titled 'Discontinuous Variation: 1896-7'. The first page leads with 'Clear mind from cant' and contains ruminations about moral philosophy and religion. 'Ideals may well be elusive'. Several of the subsequent pages reflect the title, dealing with the ways in which change in a continuous characteristic can eventually produce a discontinuity, so that a different class is called for. By the twenty-second page, the subject has jumped to free will, a recurring theme for Galton, prompted by his researches into heredity. Three pages later, the subject switches abruptly to an encoding scheme for representing mathematical operations. Seventeen pages of rough notes follow, in which the scope of the encoding expands to include instructions for reproducing pictures. Encoding of pictures forms a link to 'Discontinuous variation', since at a certain point a series of dots is perceived as a line. On the forty-second page of the notebook, Galton lays out the skeleton of a story involving Mars, sun signals flashed from Earth, and eugenics among intelligent Martians, who are said to be descended from Ants by natural and artificial selection.

This is a sample from a larger work in progress, of which the following volumes are complete.

Francis Galton at Cambridge: Letters and Diaries, 1840-1844.
Francis Galton in Africa: 1850-1852.
The Diary of Charles John Andersson: 1850-1851.
Francis Galton's Crisis: 1840-1868.
May 26, 2017.
Feb 21, 2017.
Feb 17, 2017.
May 19/2015.
Jan. 14/2015.
Nov. 12/07.
Nov. 07/07.
Oct. 29/07.
Aug. 02/07.
Jul. 31/07.
Jul. 30/07.
Jul. 29/07:
Jul. 25/07:
Jul. 23/07:
Dec. 28/05:
Dec. 03/05:
Sep. 19/05: