Francis Galton as Explorer and Geographer:
---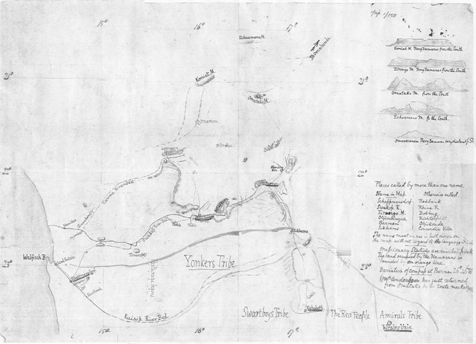 Galton established himself at first as a geographer, explorer and meteorologist, rather than as a statistician or hereditarian.
After his university career and the death of his father, Galton came into his fortune and spent some years living the life of a country gentleman, travelling around the British Isles hunting on the estates of friends, and travelling casually in Egypt and the Sudan. By 1850 he seems to have tired of this, and made a crucial choice which launched his scientific career: he resolved to explore a little known region of Southern Africa, joining the Royal Geographical Society and receiving a mandate from them to launch and expedition.
Between April 1850 and January 1852 Galton explored and charted "Damaraland" and "Ovampoland" in South West Africa, financing the expedition himself. He was accompanied by Charles Andersson, an Anglo-Swedish amateur naturalist who would stay on in the region to seek his fortune. The original intention had been to penetrate from Damaraland to Lake Ngami, which had recently been described by Livingstone and promised an abundance of well-watered territory in the interior. Galton's party was ultimately unable to reach the lake, and contented itself with charting the previously unknown interior regions of Ovampoland in northern South-West Africa, where they came close to the Cunene river but were ultimately forced to withdraw short of it. The trip was remarkable for Galton's acute ethnological observations of the inhabitants, and as he later put it: "I saw enough of savage races, to give me material to think about all the rest of my life" (Times, Dec. 1, 1886). Galton was also profoundly influenced by his study of the behaviour of the large herd of cattle the expedition depended on for food and transport; he would later combine these ethological and ethnological observations in his study of the evolution of variable and heritable traits.
Shortly before Galton returned, he wrote an account of his trip for the Royal Geographical Society.
Galton published a full-length account of his trip, Narrative of an Explorer in Tropical South Africa (Murray, 1853), which proved to be very successful.

Map compiled by A Peterman showing contemporary African explorations
The following transcripts from his autobiography, chapters IX and X, written many years later, provide another summary of his expedition. In recognition of his geographical work, the Royal Geographic society awarded him a gold medal for African exploration.
Galton went on to assume a large role in the affairs of the Geographical society, contributing regularly to its journals. Although he would never go exploring in earnest again, having married on his return from Africa, he actively sponsored and encouraged others to do so, providing helpful advice, and some practical inventions.
| | | | |
| --- | --- | --- | --- |
| | Proceedings of the Royal Geographical Society | 2, pp.60-77. | 1858 |
| | Proceedings of the Royal Geographical Society | 2, pp.227-9. | 1858 |
| | Proceedings of the Royal Geographical Society | 4, pp. 14-9. | 1859 |
| | The Cornhill Magazine | 5, pp.354-64. | 1862 |
Galton was actively involved in the expedition launched by Richard Burton and John Hanning Speke to discover the sources of the Nile in Africa, having drafted their instructions for their expedition to "The Mountains of the Moon". During the expedition, Speke pressed on while Burton recuperated from illness, and claimed to have discovered (what is now known as) Lake Victoria, as the source of the Nile. The following article is a report by Galton on the African explorations of the time.


| | | | |
| --- | --- | --- | --- |
| | Proceedings of the Royal Geographical Society | 6, pp.175-8, | 1862 |
Controversy erupted between Burton and Speke on their return to England, Burton doubting whether Speke really established the source of the Nile, and calling into question his undoubtedly shaky (but ultimately correct) geographical reasoning and evidence. The row between Burton and Speke, which culminated in the mysterious death of Speke in a hunting accident (which may have been suicide) deeply embarrassed Galton, who never courted public controversy.
Galton also turned his own travel experiences, and those gleaned from others, assisted by his practical ingenuity, into an enduring book containing handy advice for travellers, The Art of Travel (Murray, 1855), including instructions for the best way to roll up shirtsleeves.
Galton was especially pleased to discover that an African flower resembling a geranium had been named after him - Galtonia Candicans. He supposed that the botanist responsible had simply picked his name from among the winners of Royal Geographical society medals for exploration in Africa.